Love Affair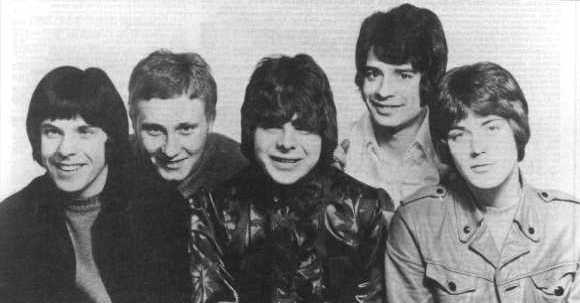 THIRTY YEARS ON FROM "EVERLASTING LOVE", SINGER STEVEELLIS AND DRUMMER MAURICE BACON TELL THE STORY BEHIND ONE OFTHE SIXTIES` MOST LOVEABLE HITS
Bringing on back the good times: John Reed, with thanks toAlan Clayson
In 1968, only the Beatles sold more records in Britain thanthe Love Affair. Yet none of the band was over twenty, theirbrattish antics aggravated the cognoscenti and they didn`t evenplay on their singles. The ace up their elegantly-embroideredCarnaby Street sleeve was Steve Ellis, an immensely talentedsinger whose voice belied his tender, 18-year-old frame.
Add the might of CBS producers Mike Smith and Keith Mansfield,and the country`s top session musicians, and the band couldn`tfail. Between January 1968 and July 1969, the Love Affair notchedup five Top 20 hits, beginning with the classic "EverlastingLove", a perennial of oldies radio to this day, and whichwas resurrected only last month by no less a force than thecast of BBC1`s long-running hospital drama, Casualty.
It may have been a cover version but "Everlasting Love"still encapsulates an era of innocent pop, an era which alsospawned songs like "Young Girl", "Bend Me, ShapeMe", "Silence Is Golden", "Baby Come Back"and "Baby Now That I`ve Found You". Some rock historianswould have us believe that the late 60s were all about the blossomingof flower power, not of crude Top 30 singles. But as the beatexplosion`s most vital exponents - the Kinks, the Beatles, theStones, the Who, the Small Faces - retreated to the studio tochange the face of music, new names were needed to fill thevoid, in a world of showbiz, teen mags, clothes allowances,Top Of The Pops and screaming girls.
The pop 45 was still the central cog in the wheel of the musicindustry. For bands like the Love Affair and peers like AmenCorner, the Herd or the Marmalade, the hit single was theironly chance of reaching beyond the treadmill of nightly clubgigs. For Simon Dupree & the Big Sound, that break camewith "Kites". For Status Quo, it was "PicturesOf Matchstick Men". And for the Love Affair, it was "EverlastingLove", which hit No. 1 in 1968, the same week drummer MauriceBacon celebrated his 16th birthday.
The band were attacked for not playing on their singles, despitethe fact it wasn`t an unusual scenario for the time - and anyway,who wanted to hear a bunch of `pretty boy` teenagers with mediocretalent? The band reacted with an openly arrogant stance towardsthe media and the industry. In this respect, they anticipatedthe Sex Pistols` confrontational front by a decade - it maybe a coincidence but Rotten & Co. covered one of the LoveAffair`s strongest hits, "A Day Without Love", inearly rehearsals.
The Love Affair tended to be dismissed as a passing teenybopsensation but Ellis`s voice owed more to fellow Stevies Marriott(Small Faces) and Winwood (Spencer Davis Group) - they all shareda love of U.S. soul. The Love Affair may have emulated the SmallFaces, but they failed to match their idols` transition intoa more mature, studio-based outfit. When Steve Ellis quit, theLove Affair effectively died with the 60s and their 18-monthsupremacy was over.
"There was talk of calling us Thin Red Line and paintinga line down our heads! We went, no way, we`re not `avin` that!"
Not unlike their North London predecessors the Dave Clark Five,the Love Affair - or the Soul Survivors, as they were originallyknown - were formed around their drummer, Maurice `Mo` Bacon(born 26/1/52).
"I come from a family of drummers", says Maurice."Uncle Max was a famous drummer in the Ambrose Orchestrain the 30s. My father was a semi-pro drummer, and a cousin,Victor Feldman, was a famous session player. He played on SteelyDan`s records. So after I started playing drums, my father formeda band for me by placing adverts in the paper."
The band`s singer was also no stranger to bashing the skins.Steve Ellis (born 7/4/50) laughs: "I played drums - badly- in a school band in Finchley. Then a mate of mine said, whydon`t you sing?, because I used to make up songs and he hada guitar. I was around 12 years old."
The Bacons were from Southgate; the rest of the band were recruitedfrom nearby Finchley, where Maurice`s father Sidney was theproprietor of a successful handbag factory. "There wasan ad in the Melody Maker for a singer for a young band",explains Steve. "As a dare, I went for this audition. Andthat was the Soul Survivors: Maurice, myself, Morgan Fisheron keyboards - I knew Morgan already - Ian Miller on guitarand Warwick Rose on bass. This is early 1966. The first numberI ever learnt to sing with the band was `Keep On Running`."
Warehouse
Sidney Bacon agreed to nurture his son`s ambitions by managingthe band. "My father was fairly wealthy", says Maurice."He invested a lot in the band, bought all the equipmentand had a warehouse in Walthamstow in which we`d rehearse. Andwe had vans to go to gigs in."
At first, the team adopted an irreverent approach to bookings,to say the least, as Steve reveals: "We used to gatecrashweddings and bar mitzvahs and then say, `We`re the band youbooked`. `But we haven`t booked a band!` `Oh, we might as wellplay!` We`d turn up in the Commer with the PA. They were ourfirst amateur appearances - those and Mod clubs down in Clapton."
The warehouse gave the band an ideal base, as Steve recalls:"There was a constant flow of people there. Kenny Lynchcame and watched the football on his portable - very nice fella.And Owen Gray came down sometimes with his big `herb` cigarettes- and we didn`t know what they were! So there was an influenceof ska and bluebeat - we even did a cover of Prince Buster`s`Ten Commandments`."
Maurice`s father soon roped in two co-managers - Decca Records`marketing director, John Cokell, and the label`s in-house photographerDavid Wedgbury. Cokell eventually left Decca to oversee theband`s day-to-day affairs.
The band`s management then decided upon a new name - the LoveAffair - though not without some prevarication. "I washappy with the Soul Survivors", admits Steve. "Therewas talk of calling us Thin Red Line, the idea being to havea painted line down the middle of our heads that went down intothe suit and trousers! Honestly! This was quite radical, almostlike Clockwork Orange, but we went, no way, we`re not `avin`that!"
Instead, their next move was recording, as Maurice explains:"We`d done demos in little studios in Denmark Street butthe first time we went in a proper recording studio was withKenny Lynch. He wrote the Small Faces` hit, `Sha La La La Lee`- he was this credible songwriter and the Small Faces were ouridols. He came up with `Woman, Woman`, which we recorded inAbbey Road in November 1966".
The session was stillborn. Instead, Cokell oversaw a deal withDecca for a cover of the Rolling Stones` "She Smiled Sweetly",perhaps inspired by Chris Farlowe`s success with Jagger/Richards"Out Of Time" that summer. Issued within days of theStones` own version on their "Between The Buttons"album in early `67, the single was produced by legendary bluesproducer Mike Vernon, then working in-house at Decca.
"I think the idea was to make `She Smiled Sweetly` likeProcol Harum later did, which was ridiculous", moans Ellis."It was a total non-starter, a bland, poor imitation ofthe Stones. It was in the wrong key, which I didn`t know atthe time. I hated it. But we took it up to Radio 1 and met TonyBlackburn, who`s an absolute gentleman. He said, I`ll play that- and my mum was very happy!"
Despite its period charm (and a Kenny Lynch-supervised Morgan/Ellisoriginal, "Satisfaction Guaranteed", on the flip),the record flopped. Steve sighs: "I knew it wouldn`t bea hit. I wasn`t into the Stones, anyway, so it was a bad decision.But we were kids. Then our management came in with `A WhiterShade Of Pale` by Procol Harum, touting it about, but therewas no way we could better that. It was fabulous. So we passedon that one. It wasn`t really us - it was too hippie."

The Love Affair. (L-R): Lynton Guest, Maurice Bacon, Rex Brayley,Mick Jackson, Steve Ellis.
By the time "She Smiled Sweetly" was in the shops- and despite their youth - the band had made their presencefelt in clubland. "We`d rehearse and rehearse, play andplay", remembers Ellis. "We did all the London soulclubs - the Marquee, Tiles, the Flamingo, the Kilt and the RickyTic. We were mad on Stax, Motown, Chess, a bit of Beach Boys."
"At that point, we were fairly cool", adds Bacon."We played at the Speakeasy, the Bag O`Nails. We`d playresidencies - every Saturday at the Marquee for a month. Weplayed three/four nights a week around the country to make aliving - even though, initially, we were still at school. Wehad left school and gone professional for nearly a year, gigging,before we started having hits."
The band`s set was typical of live bands of the period, hookedon the same U.S. soul 45s beloved of their Mod-heavy audience- songs like Aaron Neville`s "Tell It Like It Is",Garnett Mimms` "I`ll Take Good Care Of You", "RescueMe" by Fontella Bass, Lee Dorsey`s "Ride Your Pony",Eddie Floyd`s "Knock On Wood" and Marvin Gaye`s "Ain`tThat Peculiar". "My favourite singers were Sam &Dave, Wilson Pickett, Ray Charles, the Impressions, most definitelyOtis Redding", enthuses Steve. "I love David Ruffin`svoice - beautiful - and James Brown`s."
But according to Steve, their chief role model was undoubtedlythe Small Faces: "They were kindred spirits - them andthe Who. The Marriott/Lane partnership was superb. Those twobands were four/five years older than us. The Move were somethingelse, too. On a good night at the Marquee, they were phenomenal- they were more West Coast pop, Byrds covers. We`d see GeorgieFame, brilliant, a major talent; Zoot Money, Graham Bond, GenoWashington, Cliff Bennett, Eric Burdon."
As the Decca deal petered away, the Love Affair visited R.G.Jones` now-legendary studios in Morden, South London. "Wedid a lot with R.G. Jones", adds Bacon. "He was great.I`ve still got an acetate on Oak from May 1967, `Do You Dream`,written by Steve and Morgan."
Muff
The band then attracted a well-connected mentor. "We weresending out demos and Muff Winwood (ex-Spencer Davis Group),A&R with Island, picked up on us because of Steve`s voice,which was incredible", explains Maurice. "He was verymuch in the Steve Winwood vein so Muff would have appreciatedthat."
With Muff producing, the Love Affair recorded the Spencer DavisGroup`s `Back Into My Life Again` at Island. EMIdisc acetateswere cut but despite the song`s obvious commercial potential,the track was abandoned.
Meanwhile, the lads stumbled across another potential coverversion, as Maurice reveals: "Because John Cokell was atDecca, he heard Robert Knight`s `Everlasting Love`, which wason their subsidiary label, Monument." Steve: "Themanagement put it on and we all loved it immediately. Muff wantedus to record it on our own - no orchestra, no nothing. Somewhere,there`s a version just by the Love Affair."
Although Robert Knight was a veteran of the Southern Soul scene,the Tennessee-based singer had only finally tasted success inhis native America in October `67 after he was spotted performingin Nashville by Mac Gayden, co-owner of the local Rising Sonslabel. He and his partner Buzz Cason not only offered Knighta solo deal but presented him with their co-composition, "EverlastingLove", a catchy, country-tinged soul song that cleverlybridged the gap between the R&B and pop charts.
Knight had enjoyed considerable Stateside success with "EverlastingLove" and Cokell knew that`d have to be quick to steala march on its UK release. There was one problem with the MuffWinwood-produced version: as Maurice puts it, "no-one thoughtit was that good". Back to the drawing board.
By this time, the Love Affair had joined the books of the prestigiousStarlight Agency for live bookings, alongside CBS artists likethe Tremeloes, Anita Harris, and the Marmalade. That led themin turn to CBS`s in-house producer Mike Smith, famous - alongside`musical director` Keith Mansfield - for a polished, orchestrated,hard-hitting pop sound.
"It was probably John Cokell`s idea to do `EverlastingLove` with an orchestra", suggests Bacon. "None ofus could read music and all these singles were made within three-hoursessions." It was decided that Steve should sing but thebacking - orchestra and all - would be played by session musicians."Mike Smith was brilliant, so talented", says Ellis(though Bacon suggests the real star of the show was engineerMike Ross, who worked with the band throughout their career)."They had a 40-piece orchestra and you`d be in the backdoor at CBS Studios - bosh and you`re on, three takes and thatwas that. I put the vocal on and the number was a bit specialso everything just clicked."
Issued in December 1967, the Love Affair`s "EverlastingLove" was a barnstomper of a single, from the thunderingbassline to the high-impact brass and rousing orchestration,not to mention Steve Ellis`s belting, deep-throated vocal. Threedecades on, its sassy production begs comparison with contemporaryCBS hits like "Young Girl" and "Lady Willpower"by American act Gary Puckett & the Union Gap. "It wastrying to be like Phil Spector", adds Steve, "thatmassive, orchestrated wall of sound. When I heard it, it completelyknocked me back. I`d never heard anything like it".
On 6th January 1968, "Everlasting Love" cautiouslyentered the charts at No. 36 but risked being lost in the post-Christmaslull - and Robert Knight`s own version was hot on its heels(it peaked at No. 40). It was time for action. Syd Bacon apparentlyslipped a backhander of £200 to pirate station Radio Carolineto secure 40 plays per week. And they needed a publicity stunt.
"Our drummer took his oath wearing a skullcap but becausehe had a perm, it wobbled about. Our guitarist wet his pantshe was laughing so much!"
Steve laughs: "We had this superb publicist, `Biffo` Bryans(he later died in a car accident). He had these mad ideas. Oneday, we`re all walking up to Piccadilly Circus and he said,I got it, climb up Eros. We said, you`re havin` a laugh! No,we`ll take some photos. I got to the top with the bow and arrow,two got to the middle, the other two are frothing about underneathin the water and we couldn`t get down. Biffo`s going, get down,the police are coming.
"The next thing, the whole of Piccadilly Circus has groundto a halt. It`s two o`clock in the afternoon. The fire brigadecame with ladders, the police came and we got arrested. Thepapers had `Hippies invade Eros` on the front page, becauseour drummer had a twinky perm like Jimi Hendrix and a kaftan- he never did have any dress sense!
"So we got taken down to West End Central police stationand bailed to go to court for a breach of the peace - and whenwe went back, the record was No. 1. You couldn`t buy publicitylike that! We went in the box and got fined £8 each. Ourbass player looks at this sergeant and says, that buys a year`ssupply of truncheons and police whistles! The bloke went ballistic!Our drummer was Jewish and when he took his oath, he had toput a skullcap on but because he had a perm, the cap was wobblingabout. We`re sitting behind this dock falling about. The judgeis going, Order, order, order! Our guitarist actually wet hispants he was laughing so much."
The following week, "Everlasting Love" climbed toNo. 15, then No. 3 and No. 2 before topping the charts on 3rdFebruary. The Love Affair had arrived and yet the band werebarely out of short trousers. "From starting the band torecording `Everlasting Love` was less than two years",adds Bacon. "I was 16 the week it went to No. 1. We didTop Of The Pops five weeks in a row - three as it was goingup the charts and then it was No. 1 for two."
The band`s lifestyle was transformed from the usual diary ofclub gigs and rehearsals into a whistle-stop routine of TV appearances,media interviews, radio sessions and photo opportunities. Stevelaughs: "It was mental, complete madness. Imagine you`vegot five fellas - I was 17 - who`ve never seen anything of life.I came straight out of school into an apprenticeship and hadto do the band at nights. I was getting about three hours` sleep.Then, all of a sudden, this went off."
The practice of using session musicians on a pop record wascommonplace but rarely acknowledged - that is, until the LoveAffair appeared live on prime time TV. "We were on JonathanKing`s show, Good Evening. He likes notoriety so he says toour bass player on live TV on a Saturday night, `You didn`tplay on your record`. We looked at each other: `No, we didn`t`.He said `But you did sing on it, didn`t you?` `Yeah.` The nextthing, it`s all over the papers: `Band admit...`.
"So we got blacklisted from Top Of The Pops. One of theexecutives used to say, if you want to be on the programme,you have to buy my wife a washing machine as a token gestureof goodwill. We said, bollocks, no! We`re in the charts, anyway.We refused so we got banned. There was loads of fuss but wewere cocky and 17/18 so we didn`t care - as long as we wereplaying to a good crowd."

The Love Affair pose in "weird, horrible clothes"outside Syd Bacon`s factory where they used to rehearse
Such was the rapidity of the Love Affair`s rise that they hadn`teven signed a contract. Maurice laughs: "When it went toNo. 1 we said, let`s get another deal somewhere else! CBS thenthreatened to slap an injunction on us so we decided that, ratherthan spend two years in court, we`d just move forward with them."
Moving forward meant sticking with the hit formula, to theextent of covering another Robert Knight song, "RainbowValley". Cynical or not, the gambit paid off and the LoveAffair were rewarded with a second Top 5 hit in April. Again,the orchestrated Mansfield/Smith arrangements and Ellis`s powerfullarynx shone through, but the record led to accusations of plagiarism.Steve is defiant: "I remember going up to Robert Knighton a TV show. I apologised to him - sorry we re-recorded yournumbers - but he said, it doesn`t matter to me. He was reallynice."
Meanwhile, a keen business eye led to a sponsorship deal witha famous cosmetics company, as Maurice explains: "We wereone of the first bands to do a sponsored tour - with Yardleymake-up. We did all the big Top Rank clubs and Yardley put their`Pretty Goods` range in the foyers. I`ve got a ten-minute videothat Yardley did of us. On the back of the cover of `RainbowValley`, girls could send off for a Yardley pack. We got paida fortune, about £400 a show. I think the only act earningmore money was Geno Washington & the Ram Jam Band."
Lacking any real confidence as tunesmiths, the band advertisedfor budding songwriters, which led them to Philip Goodhand-Tait(ex-Stormsville Shakers). His first contribution had been theB-side of "Everlasting Love", "Gone Are The SongsOf Yesterday", though its recording emphasised the hurried,production-line attitudes of the times. "It was done atthe end of a session", reveals Bacon, "and we onlyhad time left for one take. Steve missed the first verse andthey didn`t even bother going back to do it again!"
"Phil started shooting songs at us", continues Steve."After a few tapes, we thought, this is good - so he wroteour next four singles, `A Day Without Love`, `One Road`, `BringingOn Back The Good Times` and `Baby I Know`, plus album tracks.He was a good singer and keyboard player, kinda like a sixthmember - though he didn`t tour. It wasn`t just like a conveyerbelt."
Each single was heavily orchestrated, each sported Steve`ssoulful voice and all but the last of Goodhand-Tait`s compositionskept the Love Affair in the Top 20 through till the summer of`69. It was a winning formula, albeit frustrating for the otherband members.
"We didn`t play on any of the singles", explainsMaurice. "We`d only have three hours so the easiest, mostefficient way was for Keith Mansfield to score the whole thing,bring in session guys like Clem Cattini on drums and HerbieFlowers on bass and do it in two takes. Mansfield was only involvedwith the singles, when we used orchestras. Otherwise, it wasJohn Goodison. We were allowed to play on the B-sides and thealbum and write some of the tracks for the LP. We did the LPin bits and pieces at CBS`s studio just behind Oxford Street.You had a day to record two numbers - on eight-track, everythingwas done pretty much live."
"The Everlasting Love Affair" was a solid enoughcollection. Their first three CBS singles were joined by accomplishedand memorable versions of "Hush" (Deep Purple), "TheFirst Cut Is The Deepest" (Cat Stevens/P.P. Arnold), "TobaccoRoad" (the Nashville Teens), Mike D`Abo`s "HandbagsAnd Gladrags" and a slow, rocked-up take on the Hayes/Portersoul favourite, "60 Minutes (Of Your Love)". A clutchof original songs (Ellis/Fisher`s summer pop ditties, "CouldI Be Dreaming" and "The Tree", and Mick Jackson`s"Once Upon A Season") ended with a Small Faces-styledcockney knees-up, "Tale Of Two Bitters", on the `joanna`.But, as Maurice recalls, "CBS`s attitude was like, oh,it`s just an album", and sales were correspondingly modest.
Before the album was completed, Morgan Fisher returned to thefold in summer `68, having finished the Sixth Form exams thathad prompted his departure a year earlier. He`d initially beenreplaced by Pete Bardens (of Peter B`s and Shotgun Express fame),before the arrival of a more regular keyboard player, the Leicester-bornLynton Guest (born 28/11/51). (Guest later formed English Rose,who recorded for Polydor and appeared in the pop culture exploitationmovie, Groupie Girl). By mid-`66, guitarist Ian Miller had beensubstituted by Michael `Georgie` George from Tottenham, whoin turn made way for another London lad, Rex Charles Brayley(3/1/49), after the Decca 45. And Warwick Rose`s role on basshad been filled by the Bradford-born Mick Jackson (born 27/1/50)in autumn `66; Warwick now sells medical insurance in Los Angeles.
Charisma
For two years, the Love Affair`s faces were plastered acrossthe bedrooms of teenage girls across the country as one of thenation`s biggest pop bands, notching up singles sales to rivalall but the Beatles. Though the band lacked the visual charismaof, say, the Stones or the Kinks, one particular facet madethem unique - Steve Ellis`s incredibly short fringe. In an agewhen hair went from over-the-ear to on-the-shoulder, the LoveAffair`s diminutive vocalist defiantly avoided long hair, likea male equivalent of Julie Driscoll.
Steve laughs: "It was dodgy, wasn`t it? I had a crewcutwhen I was 14/15. When we started getting well known, we`d goto Carnaby Street and get kitted out in these weird, horribleclothes. When I finally wised up that they were diabolical,I went back to my Levi`s. But I never got my hair cut anywhere.I kept razorcutting the front and left the rest as an outgrowncrewcut. It`s the weirdest haircut I`ve ever seen, now I lookat it!
"We did this advert for a famous hairdressers, Teezy Weezy`s,in this poncy Knightsbridge salon. He gets these wigs out -you`re gonna be the pirate, you`re gonna be the dandy. No f***ingway am I putting a wig on! Our driver was similar looking andbuild to me. So I said, I`m not `avin` none of this, here`sfive quid, you do it. So he wore the wig. Now, this trailerwent into the cinemas in `68/`69. `Here we have the Love Affairmodelling the new Teezy Weezy wigs!` It wasn`t me but peoplecame up and said nur nur, you had a wig on. It wasn`t me, itwas the driver - nah, don`t gimme that. That was sad, the worstday of my life!"
Instead of Soho soul clubs, the Love Affair now embarked ona string of package tours. "We played with Status Quo -good lads - and Terry Reid, who was brilliant and a nice fella,too", recalls Ellis. "We became pals on a packagetour - Gene Pitney, the Paper Dolls and the Ronnie Scott Band.We were touring constantly, flat out. It`d be, like, where thehell are we? We did a fantastic tour with Geno Washington andAmen Corner."
"We did a big show in Paisley with them", adds Maurice."As we were going on, they were still shouting, `Geno,Geno!` We did gigs with the Marmalade, the Tremeloes, ChickenShack. We did a Scott Walker package tour - with Gun and TerryReid - and another with Herman`s Hermits. We also headlineda tour, supported by Dave Berry. We even went to Germany anddid that Beat Club programme in Bremen."

Nice shirts, lads!
Despite their success, adverse coverage about the band notplaying on their singles meant critics dismissed them as a throwaway,bubblegum pop band in an age when rock was growing increasinglyserious. Steve frowns:
"We did a pre-recorded report on News At Ten once withthe head of the Musician`s Union. He questioned the band`s authenticity,a string of expletives was forthcoming from us and the clipwasn`t used. It`s a common misconception that we were hyped.We wasn`t.
"People thought we were manufactured, like the Monkees.That`s bullshit. We were a gigging, functioning, up-and-runningband. We got a lot of unfair flack. Morgan was a really goodkeyboard player and we were a tight little unit. But when itkicked into teenybop, you couldn`t hear anything - ask Andyout of Amen Corner, the Small Faces, the Herd. It didn`t matterwhat you played. It was just noise, complete chaos. You`d haveto back a car up to get in the venue - and straight out. Itwas dangerous. Kids used to pull chunks off your hair."
By summer 1969, the cracks were showing. Maurice: "Wewere very obnoxious (laughs). The excesses affected differentpeople in different ways. I`ve never taken drugs because myfather was into health foods and yoga. But drink and drugs didcome into the equation, which affected some more than others.Basically, the whole thing went pear-shaped."
That December, Steve Ellis announced his departure, live onstageat the Mayfair Ballroom, Newcastle. Why? Steve pauses: "Let`sjust say unfair distribution of funds. I was doing most of therecording and interviews. The stage show was mad. It was sophysically demanding, like James Brown - double dynamite. Ireally went for it. At the Tottenham Royal, I`d swing on thecurtains, across the chandeliers - anything went to make a goodshow.
"As you get older, you wise up. Towards the end, I thought,we`re getting totally roasted here. It doesn`t feel right. Theysaid stay on, we`ll give you X amount. No, I said, you`re robbingus, I don`t want to work with you. I always had an affinitywith Morgan but I wanted to get into singing more. During gigs,you couldn`t hear what you were singing. You weren`t gettingany musical payback. It was like Beatlemania. So I thought,I`ve got to walk."
Maurice remembers it differently: "Afterwards, CBS offeredSteve a big deal to stay on the label as a solo artist - I thinkthey gave him ten grand. That`s why he stayed on CBS. Stevewas getting fidgety. It was always him and us - well, Stevewas a bit out there and some of the excesses were setting in.It was weird. We were all getting fed up with it and there wasa bit of bad blood.
"The problem was, we started as a credible band and thenbecame this sort of joke - with the stigma of not playing onthe singles. Things were changing, too. We played with the EpisodeSix, a pop harmony band like the Beach Boys, and suddenly theywere Deep Purple (laughs) and we wanted that same credibility.Steve did as well. Singers always get affected more. I can hidebehind a drum kit but the vocalist is, like, naked out frontand takes everything personally - good or bad - because they`rethe front person.
"We had a big meeting in my father`s warehouse one day.Steve said, I`m going, I`m fed up with all this. And none ofus were really upset. We breathed a sigh of relief, althoughwe knew it was pretty disastrous. So Steve left, with our managerJohn Cokell. And we were still only on £35 a week - whenthe average wage was about £25."
In Steve`s absence, the Love Affair struggled to maintain theirprofile. "We got Gus [Auguste] Eadon in from the ElasticBand", says Bacon, "a really good frontman".Eadon structured his stage act in the style of Ian Anderson,frontman with rising stars Jethro Tull, which helped cultivatea more serious image. "My father carried on co-managingwith Ken Street, ex-guitarist with Emile Ford & the Checkmates.We then changed our name to L.A. for our second album, `NewDay By L.A.`."
Their first public appearance was a slightly disdainful performanceon Top Of The Pops, miming to their lengthy (4.08) new single,"Speak Of Peace, Sing Of Joy". "But that didn`twork", admits Maurice, "so we reverted back to LoveAffair again!". Less than a year after Steve`s departure,CBS dropped the band, prompting a move to Parlophone for twoscarce 45s in 1971.
Maurice Bacon: "Eventually, Morgan Fisher and I left toform a new band, Morgan, with Tim Staffell, the singer beforeFreddie Mercury in Queen [or Smile, as they were then called],and Bob Sapsead, the bass player from another band my fathermanaged, Springfield Park." In 1973, Morgan issued a rareprog rock album, "Nova Solis", on RCA. Maurice laughs:"We did the total opposite of pop - it was so obscure!We were into 13/6 rhythms, the whole hog. Another album whichRCA didn`t release, `Brown Out`, was eventually the first albumon Cherry Red."
Fisher then joined Mott The Hoople (and also played with theThird Ear Band) before creating some of Cherry Red`s most bizarremusic as a solo artist in the early `80s. In 1983, he was employedby Queen as an auxiliary musician on a world tour - and he nowlives in Japan. Bacon, meanwhile, formed Ultimate Records andworked closely with that loveable new wave nerd, John Otway,who wrote Morgan Fisher`s "Geneve" single. Mick Jackson,meanwhile, made a very good living teaching budding car salesmen.
Without Morgan and Maurice, the Love Affair foundered intoobscurity, issuing a one-off single on Pye in 1973 before reunitingwith Philip Goodhand-Tait for "Private Lives", a lonerelease on Creole in 1977. However, neither these releases,nor subsequent touring bands, featured a single original memberof the Love Affair.

---